We want to use digital applications to
make learning more attractive and sustainable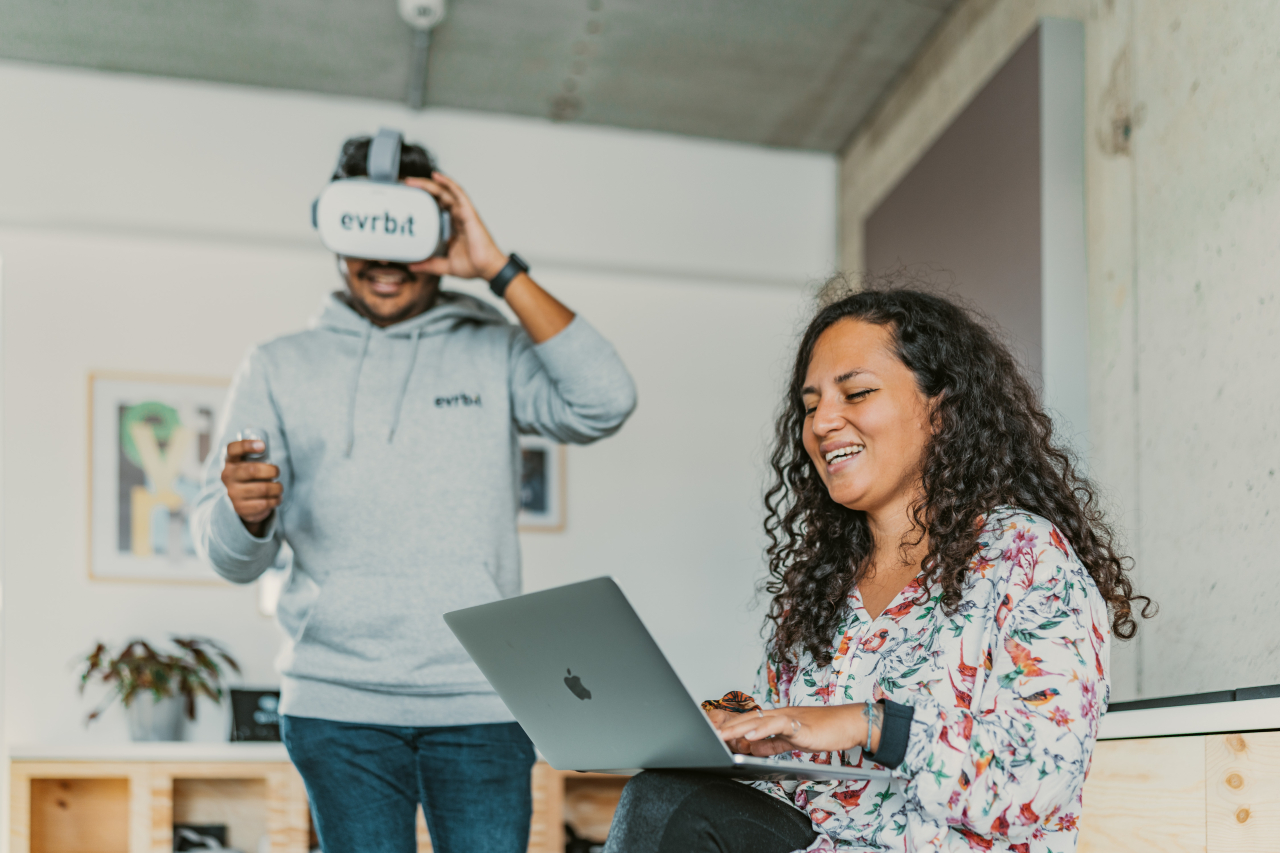 Research, invent, create.
We are a creative, design- and digital-savvy, technology-driven team.
We connect the analogue with the digital world using the most appropriate and meaningful technologies.
We design groundbreaking strategies for sustainable and innovative solutions for digital transformation. To do this, we think freely and ask unexpected questions because we consider every task from all possible angles.
As a result, we develop high-tech applications for B2B and B2C use. Our focus is explicitly on intuitive operation and the comprehensibility of all content.
Our expertise
We offer sound advice on digital transformation. The resulting innovation strategies may require diverse digital technologies.
Digital learning- and training modules
App- und web-development
Realtime 3D

Augmented Reality (AR)
Virtual Reality (VR)
Digital Twin

Connected Experiences

VR-cinema
Digital showrooms

Internet of Things (IoT)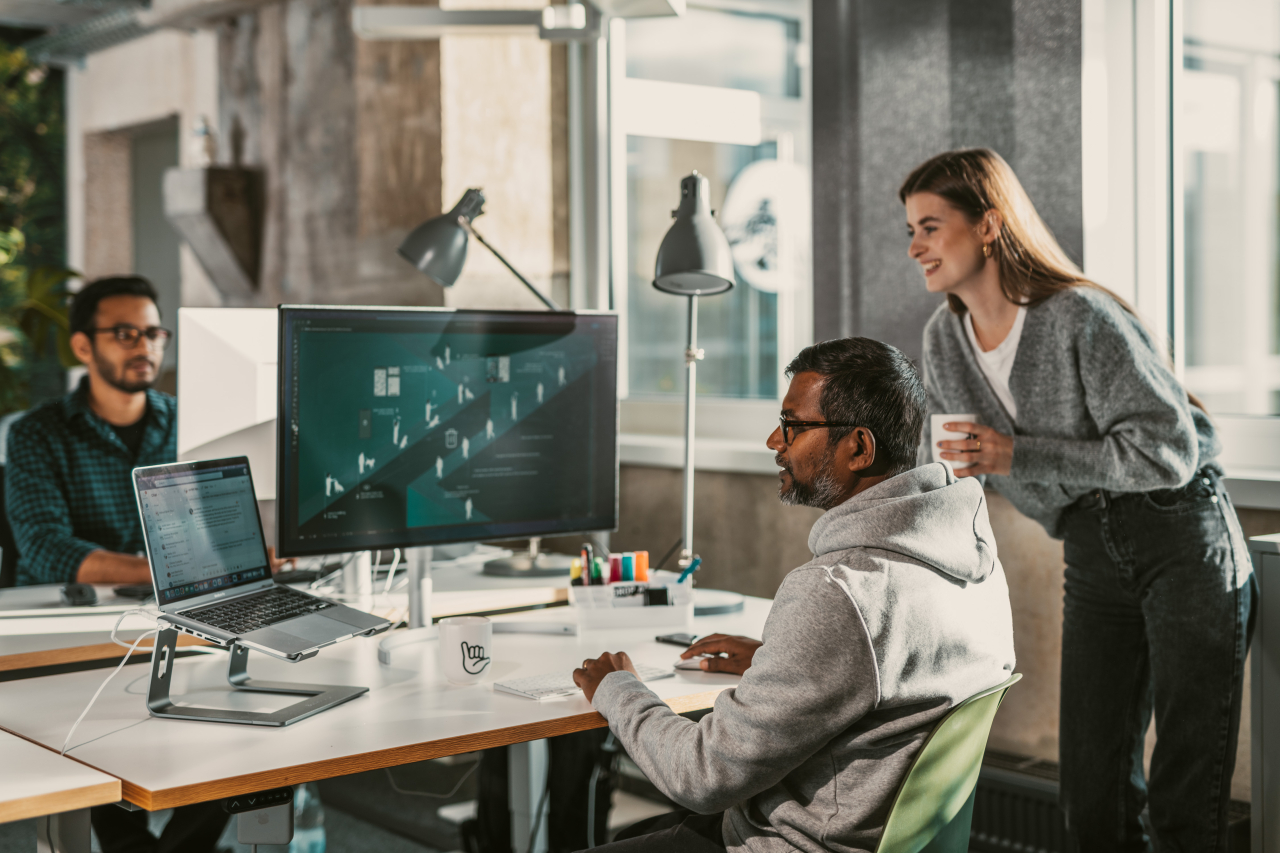 Digital Learning
Digital learning is one of our focal points. We have been advising our customers in this area since 2017. Our goal is to make learning with digital applications more attractive and sustainable. We look at which of our solutions best fits the individual project and the individual ideas, so that it works technically flawlessly and is easy to use for the users. Here is an overview of previous projects.
University Hospital Aachen
Extended Reality Learning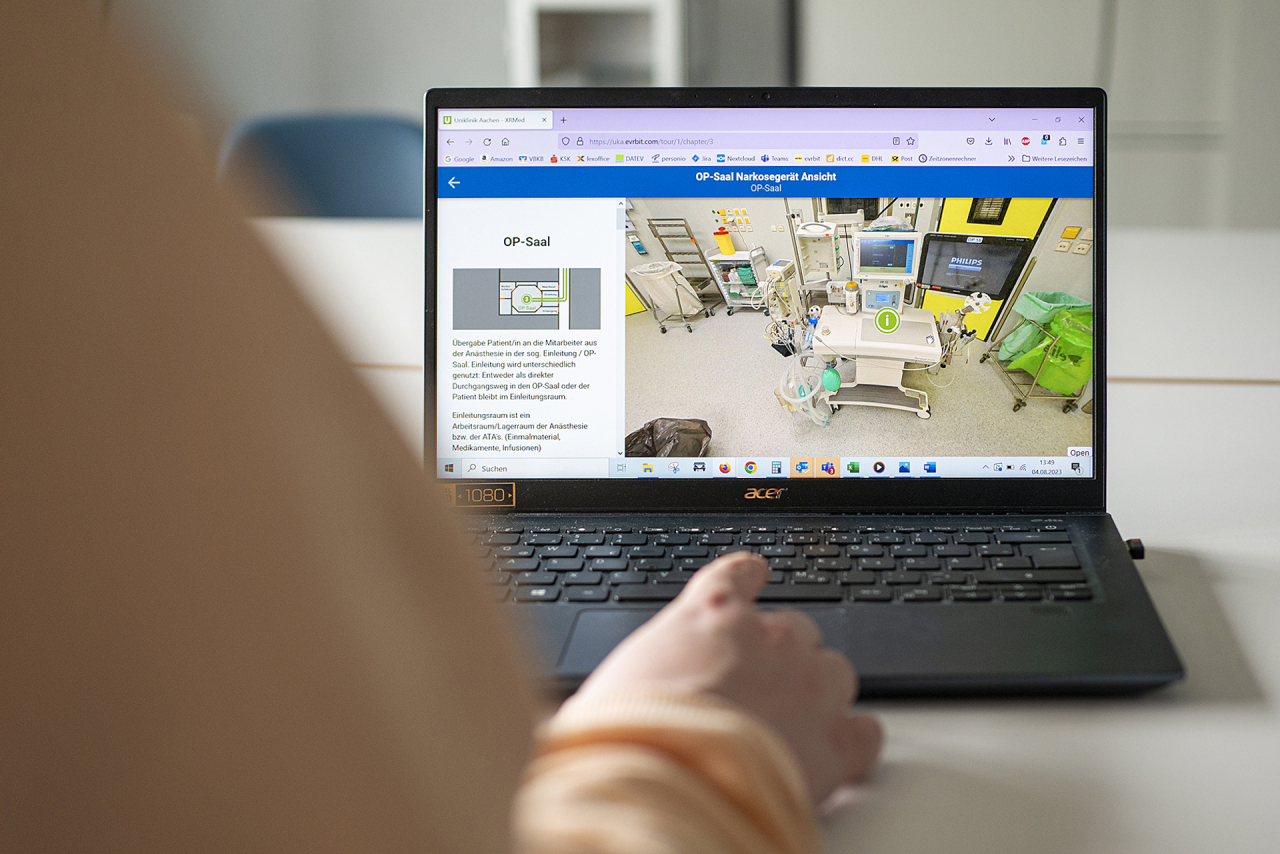 The University Hospital Aachen is a maximum care university hospital in Aachen and the region around Aachen. It is one of the largest training centers for medical and nursing professions.
For all professions in this context, the transfer of knowledge and skills represents a large part of everyday clinical life. Digitalisation offers many new opportunities for education, training and continuing education. This makes specific qualifications more efficient and attractive. Furthermore, virtual learning environments provide realistic and lifelike learning opportunities without interrupting clinical workflow.
As part of an innovation partnership, evrbit developed an innovative system for knowledge transfer for the University Hospital Aachen with the xRMed project. Hybrid learning in the classroom and at home enables interprofessional and interdisciplinary use of the possibilities of digitalisation in a variety of ways.
For example, trainees can be trained and educated highly effectively using digital learning and training modules such as 360° tours and interactive 3D content based on VR and AR technology on a PC or mobile device.
A digital strategy for innovative knowledge transfer.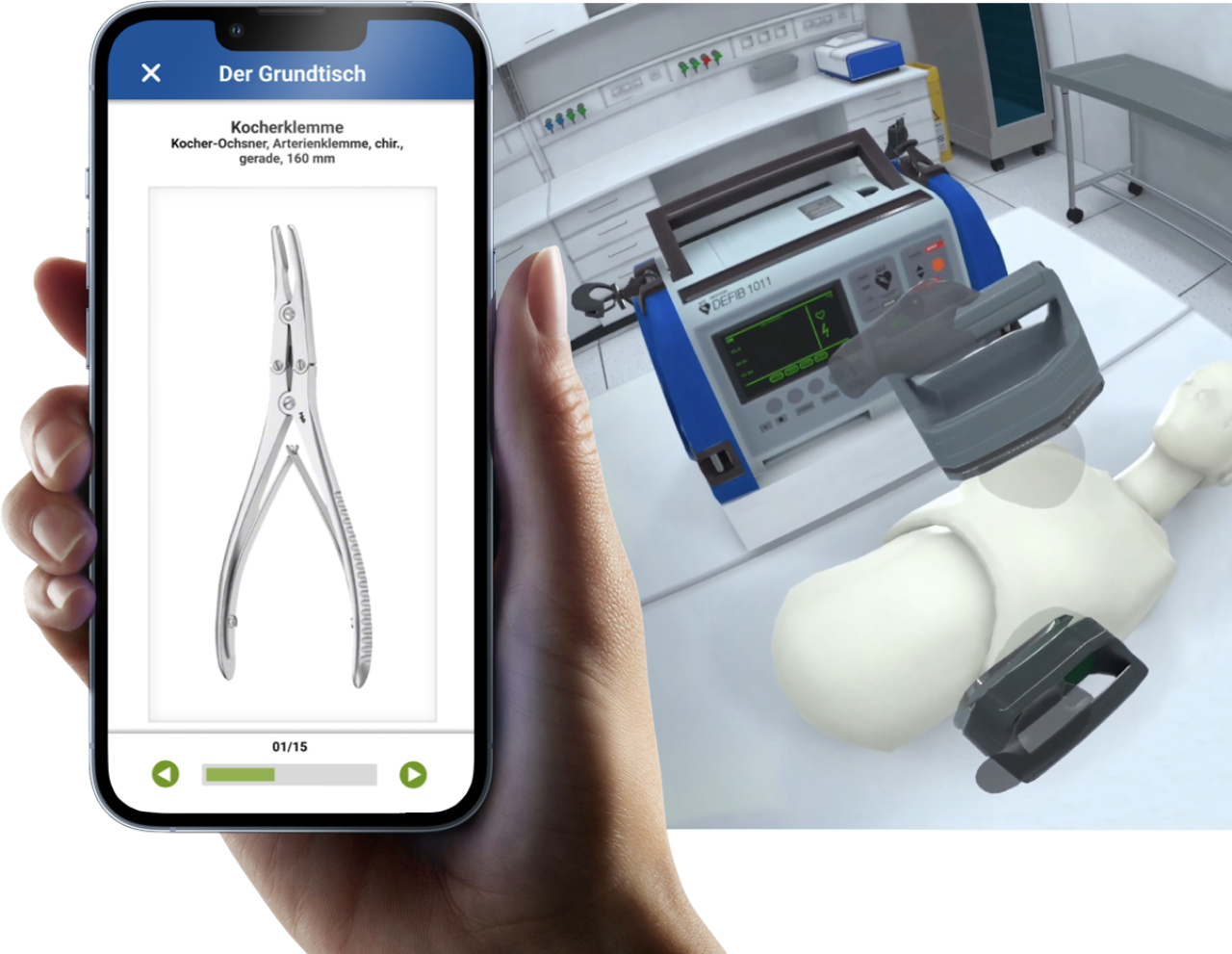 Aachen City Region
Digital command vehicle
Around 800 employees work in shifts for the fire department of the Aachen city region. They are on duty 24/7. Shift work, rest periods and holidays are a great challenge and a considerable coordination effort for necessary training.
Now the fire department has received two new command vehicles. Employees need to be familiarised with the new vehicles and their special operational elements, ideally before the ambulance goes into action.
What is the best way to train the employees?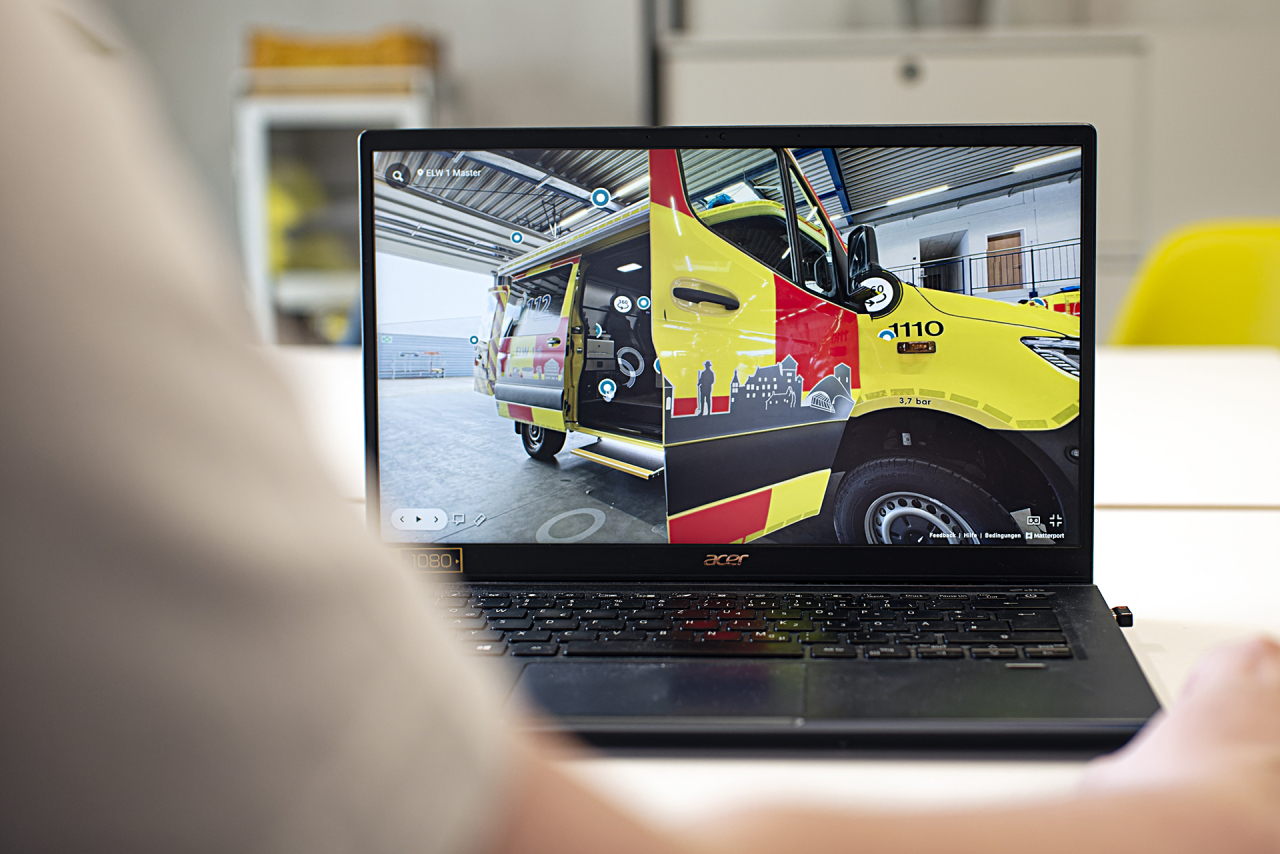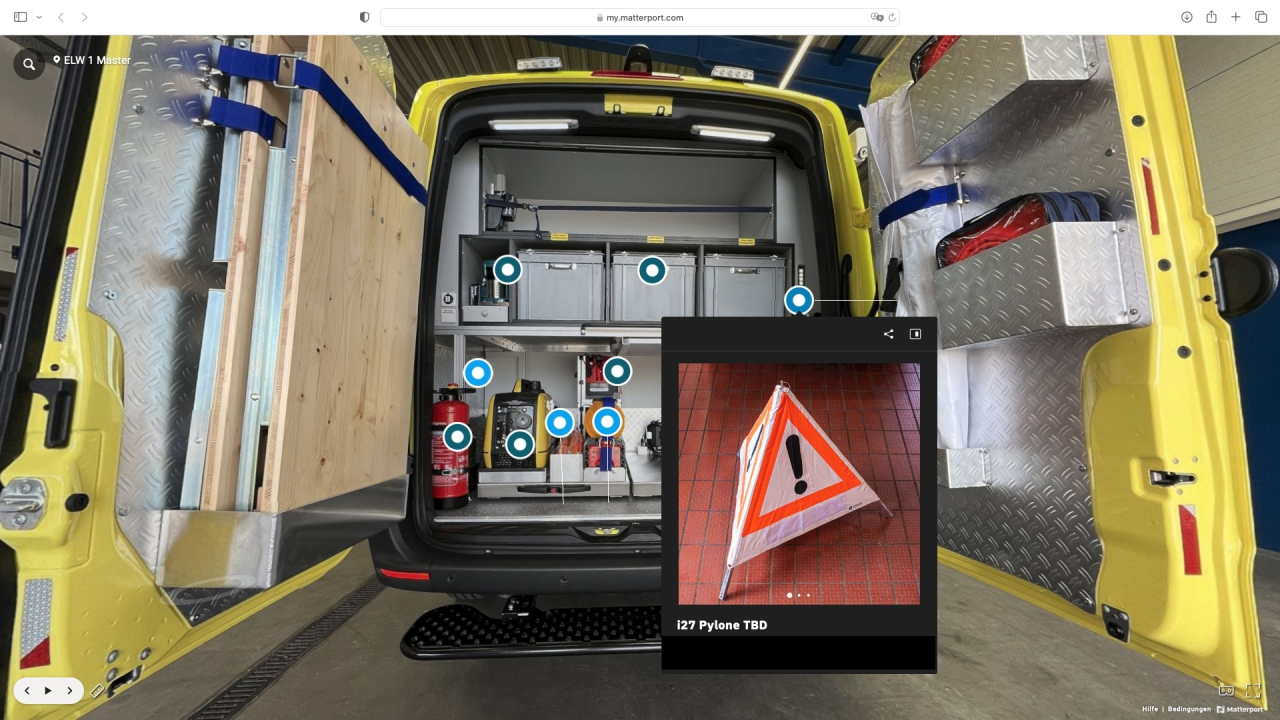 Digital twin for training purposes
The solution is a digital twin of the command vehicle. Using Matterport technology, the twin is created. It provides an insight into and around the vehicle. In addition, there are info points at all relevant points of the ambulance that can be accessed and provide information. In some cases, they are linked to further information.

On a homepage that can be accessed with any device (cell phone, tablet, web), every employee can now view the new command vehicle regardless of time and location and is optimally informed about what is where even before the first trip.
Digital twins enable learning and training regardless of time and location. In addition, the digital twins can be used on any device, which makes access and availability much easier.
Samsung
AR Galaxy App / Web
Samsung is one of the largest providers of mobile devices and has been one of evrbit's customers since 2017. Starting with a joint digital learning project with Cornelsen (VR@school), it has evolved into a digital journey of XR applications.
It all started with an app for training salespeople: even before the sales launch of new mobile devices, salespeople were trained with digital twins of the models and were thus able to familiarise themselves with the new devices and the new features. In the next step, digital training catalogues were integrated into the app for training purposes, covering more than 50 devices of the Samsung family, presented in a real environment with augmented reality.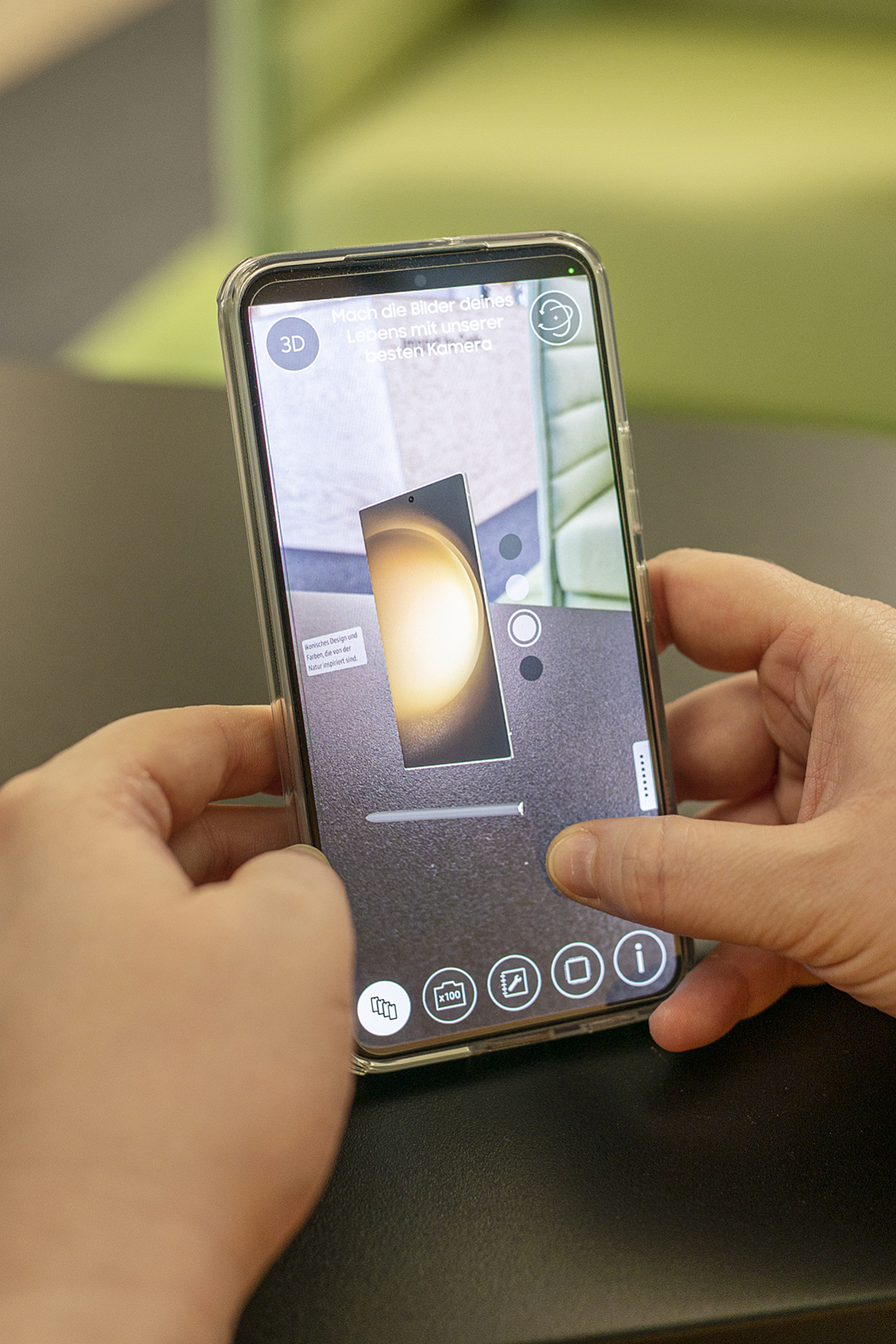 Samsung AR Galaxy App / Web
In addition to the app, there is a web application that shows the product catalog. When clicked, a high quality real-time 3D representation appears, which enables a detailed representation of the mobile devices. The devices can be individually configured and features can be highlighted.
This enhances the user experience even before the purchase.
In addition to B2C communication, a supplementary embedding option was set up for B2B customers such as mobile phone providers to integrate Samsung's devices via link on their website. There, they are interactively displayed in real-time 3D and can be viewed from all sides. In addition to technical data, the innovations and special features
of the new models (USPs) can also be highlighted.

For the WOW effect with the potential buyer.
Samsung Pinball game and filter for Galaxy Flip5
For the current product "Samsung Galaxy Z Flip5" a pinball game was created in real-time 3D that can be played on the website. Specially created filters for the Facebook and Instagram apps was an extra gimmick which Samsung promoted via an influencer campaign.

evrbit thus creates a comprehensive package of linked web and app applications for the B2B and B2C sectors.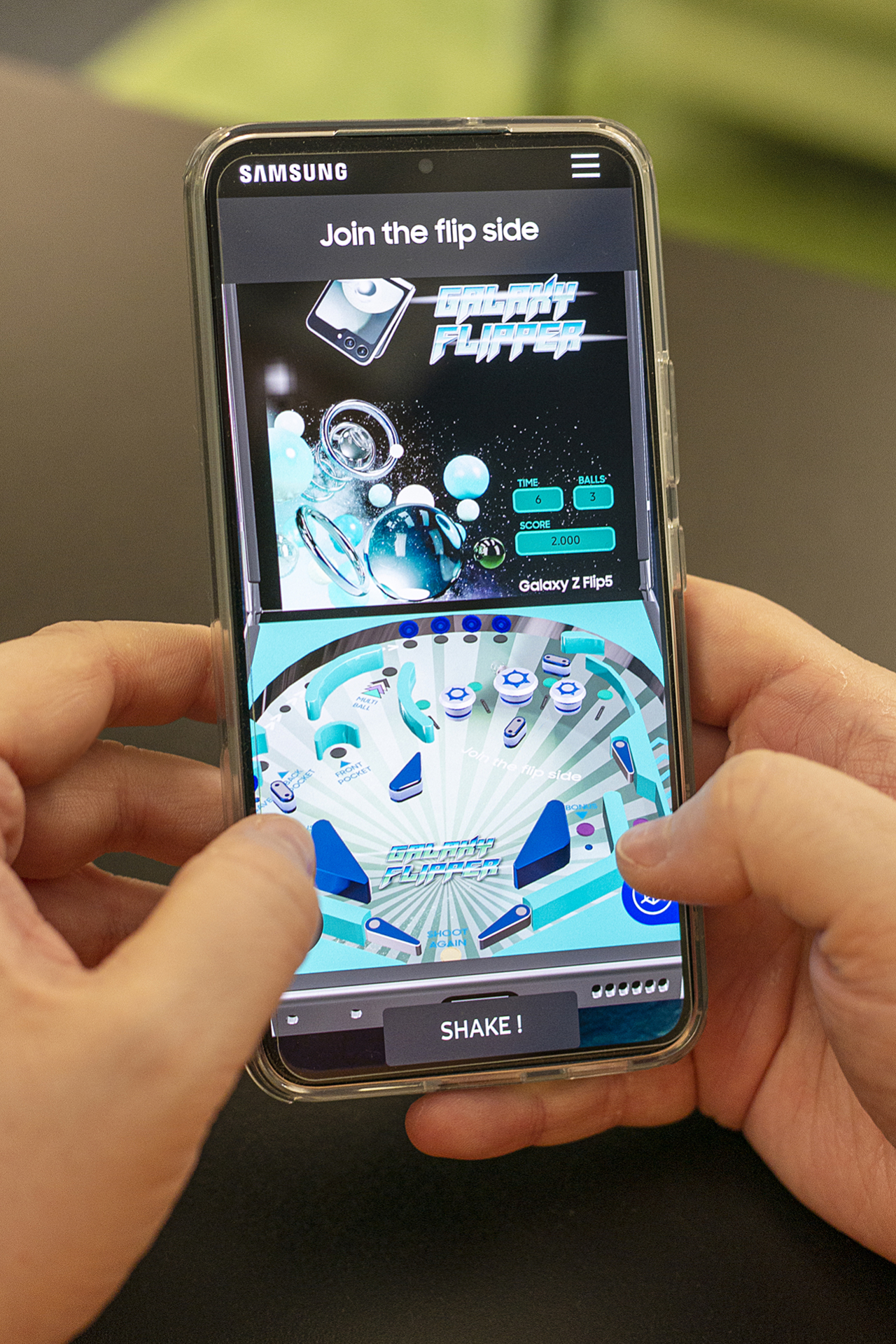 Wüsthof
Factory tour in augmented reality
In cooperation with Herzberg Media, evrbit has created a very special augmented reality tour for the knife manufacturer Wüsthof. Visitors are equipped with a tablet and the factory tour starts, for which company founder Abraham Wüsthof was brought to life by means of a hologram. He guides visitors through the production facility and shows the production process of a kitchen knife.
The AR tour enables a tour of the factory buildings.
By means of projections, visitors gain insights into machines and production processes that are otherwise invisible, accompanied by the exciting narrations of the company founder Abraham Wüsthof.

AR enables insights into worlds that are otherwise closed.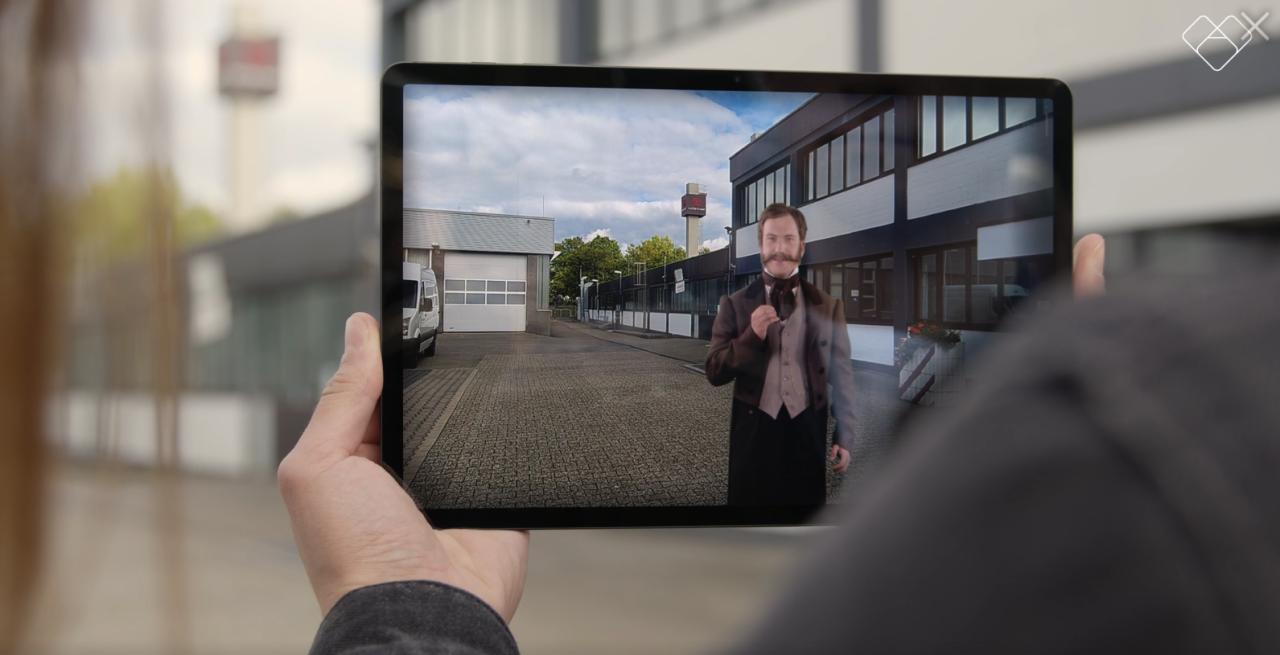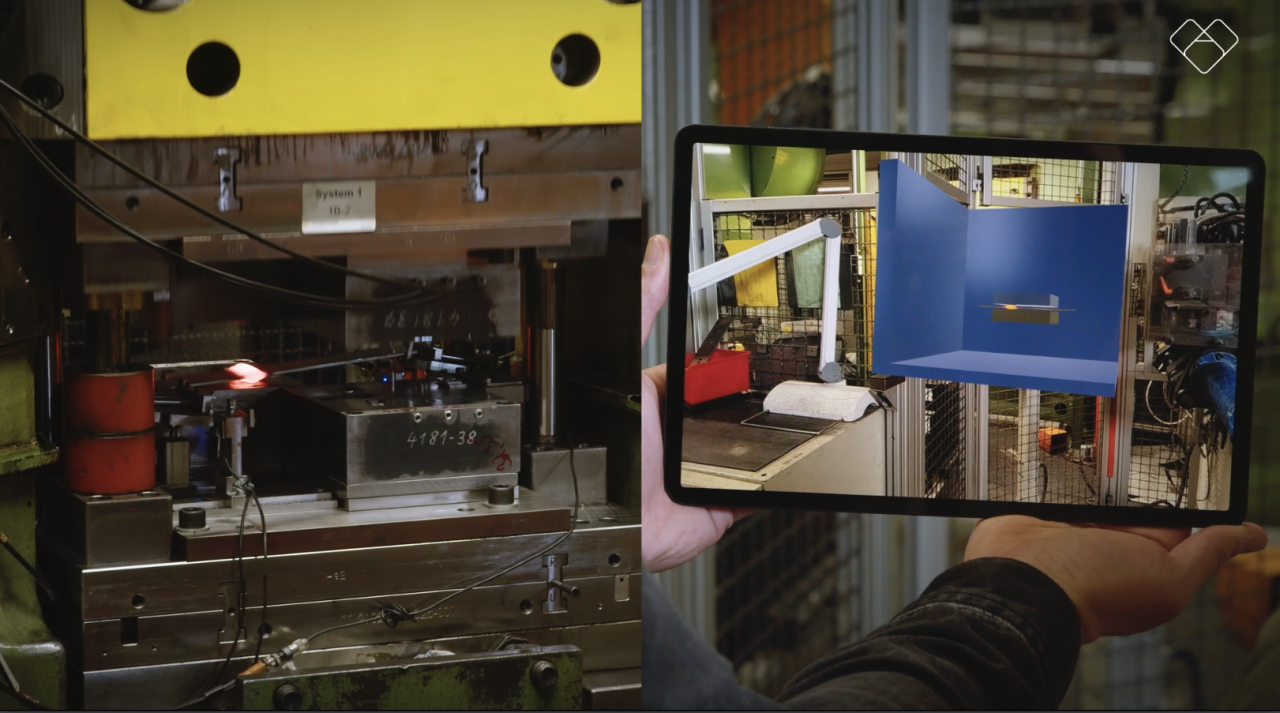 Cornelsen
VR@school - an award-winning project
In 2017, Cornelsen and Samsung launched a school project together with evrbit to teach biology, physics and chemistry in a more sustainable way.

To better process the first experience with virtual reality, students of a 7th grade class were divided into teams of two: one puts on the VR glasses, one has the tablet. This allows for an exchange between the students, which helps with processing the content in VR.
In the multiplayer game, they were able to immerse themselves in a digital body using evrbit's VR glasses. The tablet showed additional information and mirrored the VR content for team play. The learning content was thus conveyed in a different way.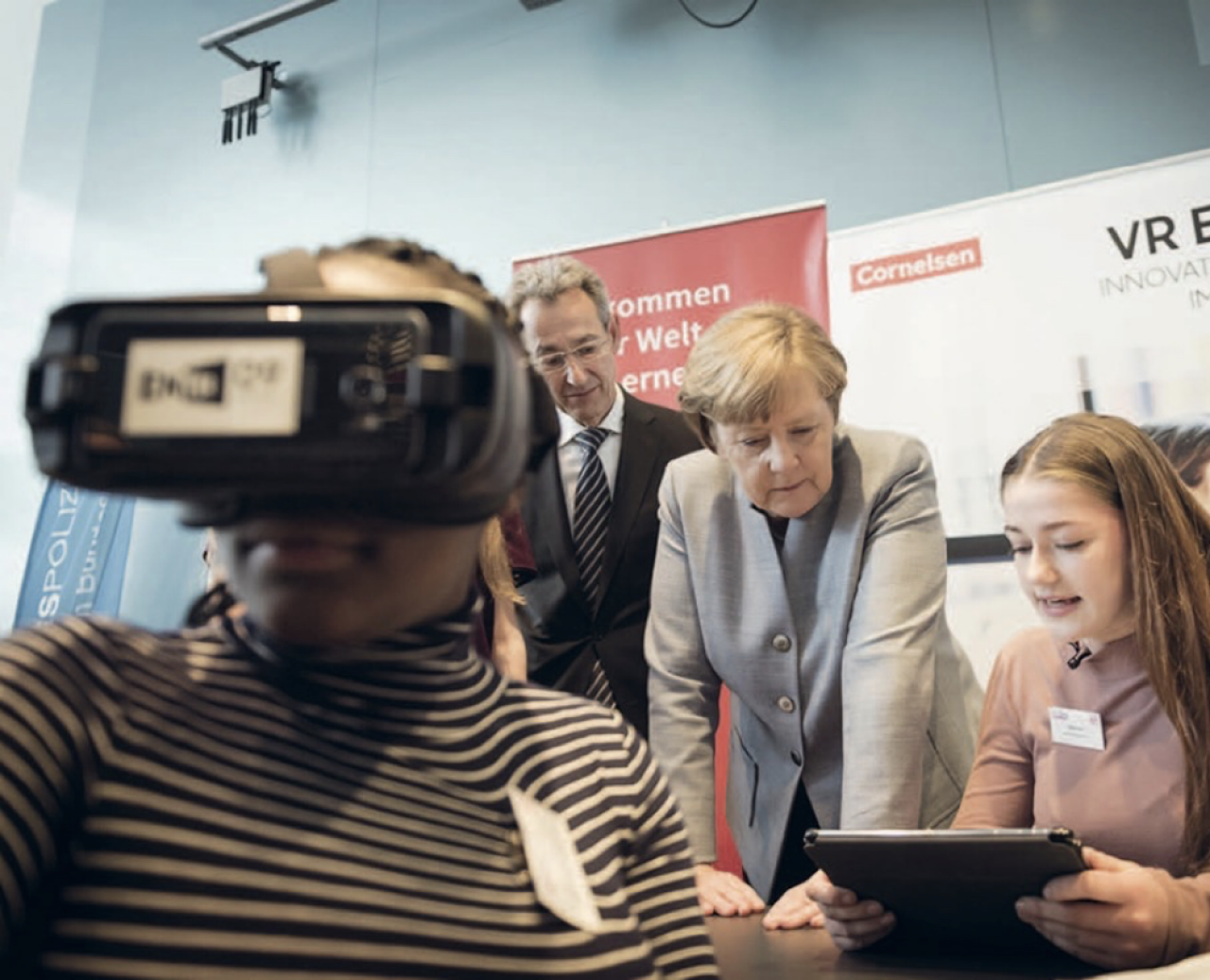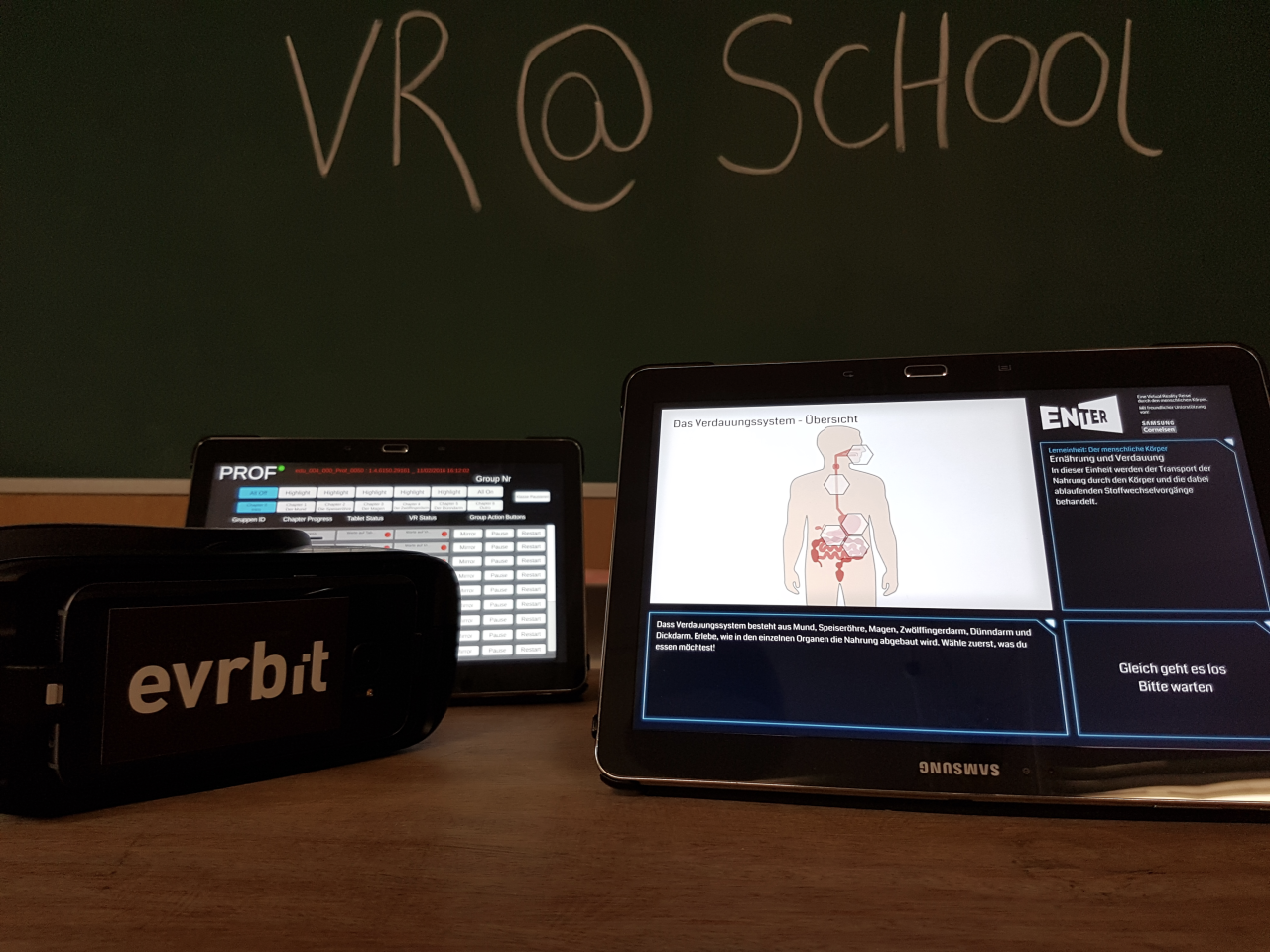 What was the result of the project?
With a "plug and play" solution, the glasses and tablet, including the network, could be implemented quickly and easily in schools. This is an important point in the application of digital solutions and contributes significantly to their acceptance.

The project was implemented with great enthusiasm among teachers and students and also with a lasting effect, as the evaluation of the associated 6-month study shows. A 70% higher memory effect was achieved due to a higher emotionalisation with the alternative teaching material.
The project was awarded as "Best Place in Germany 2017".
Link to video about project
Our pioneer project for digital learning.
ElasmOcean e.V.
VR application for the protection of the ocean
ElasmOcean is an association that campaigns against the climate crisis, species extinction, marine pollution and overfishing. In lectures and their educational program, they provide information about the ocean ecosystem and what each individual can do to protect the ocean. One element of the educational program is the use of VR glasses. Using the glasses, participants can watch a 12-minute cinematic contribution by marine biologist and shark researcher Lukas Müller, recorded with a
360° camera. They virtually dive into the ocean and experience the effects of marine pollution.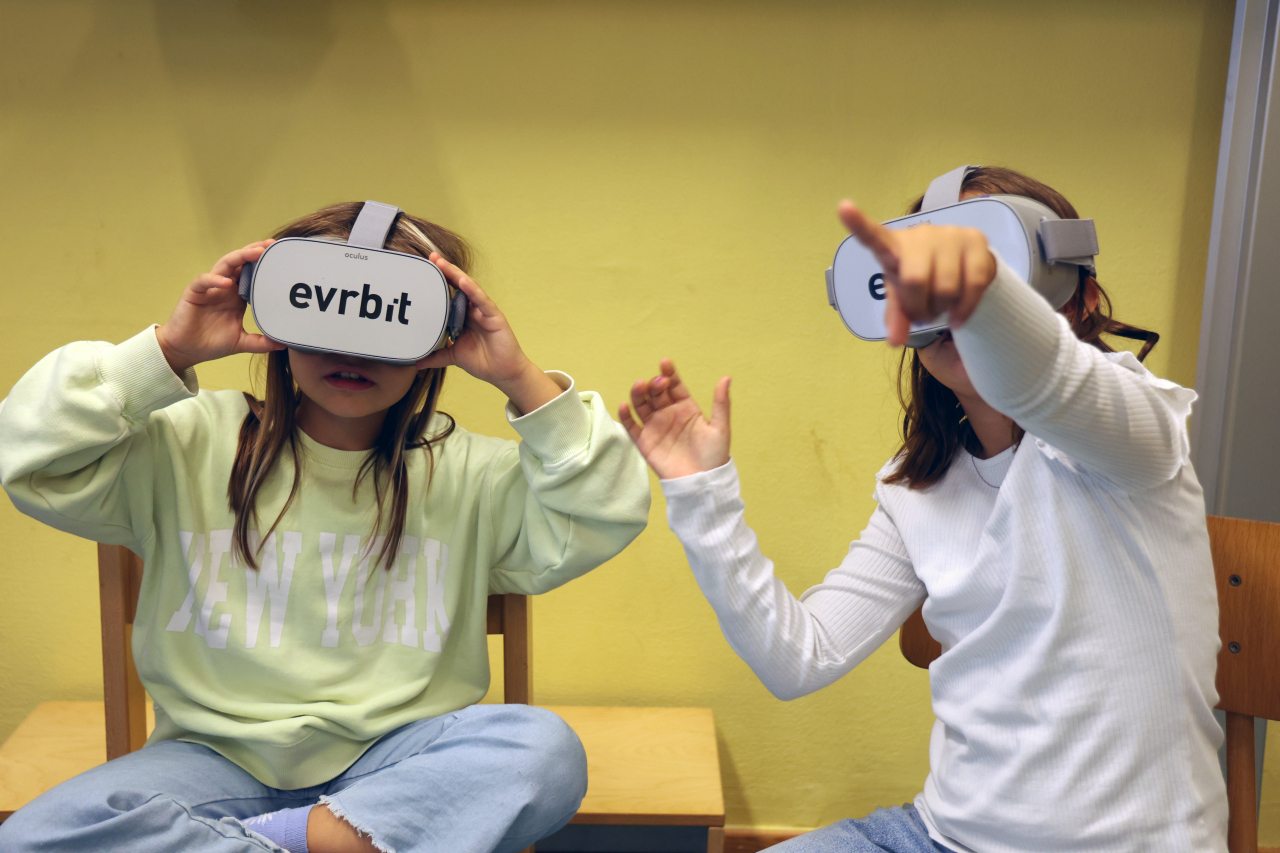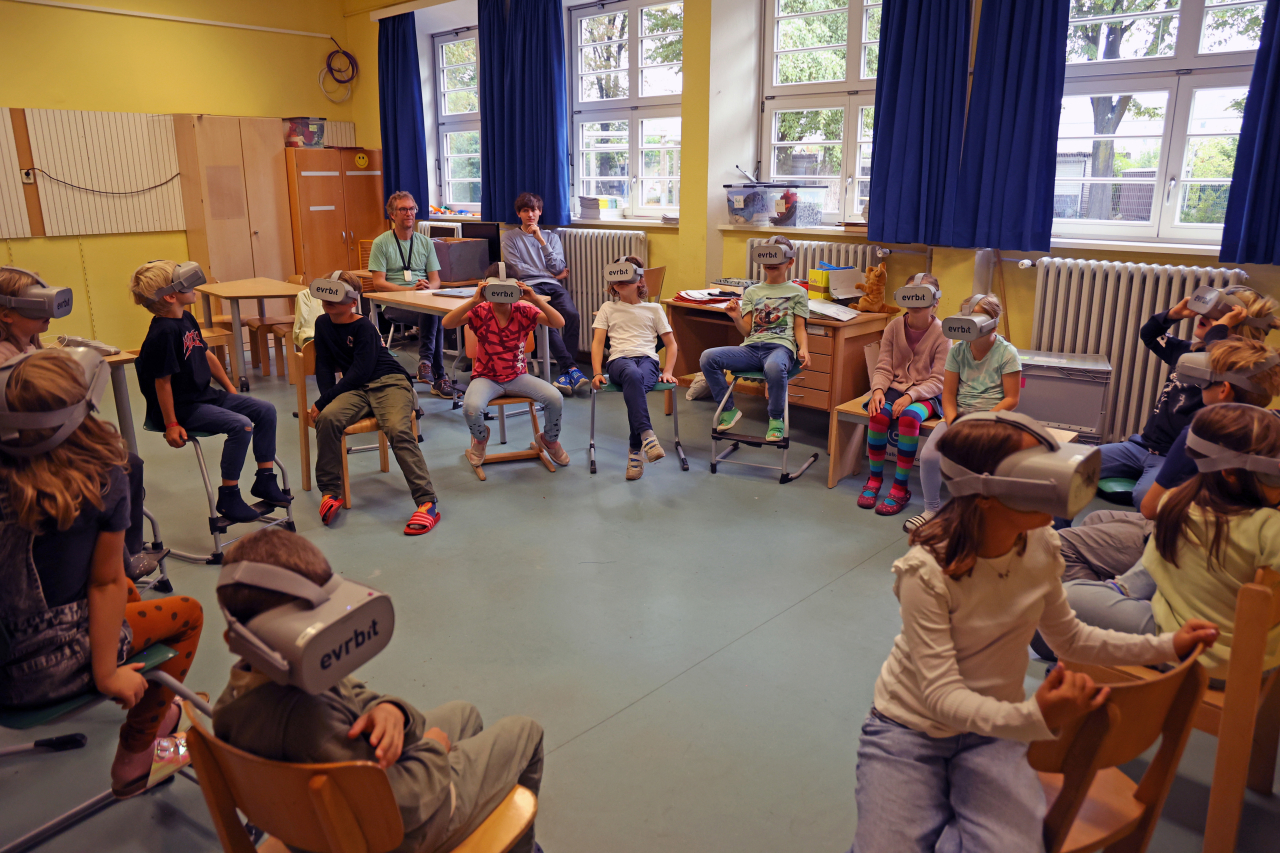 The VR experience connects and emotionalizes
With the "evrsync" technology, evrbit creates a group experience: everyone looks through their VR glasses individually, but is not isolated by headphones. The sound is transmitted through loud-speakers, matching the synchronous playback of the content in the VR glasses. Participants are not alone with their impressions.
The simple handling makes the VR kit suitable for everyday use and is even used in school classes from the 3rd school year.

The use of the VR glasses and the realistic experience of the marine ecosystem makes the experience more emotional and increases the commitment to climate protection.
Rhaetian Railway
UseCase for a Digital Travel Experience
Digitally through mountains and valleys
Rail travel is not always just about getting from one place to another. Sometimes the train ride itself is also an experience: beautiful landscapes, interesting places, special architecture. This is the case with the Bernina Express, which connects Chur in Switzerland with Tirano in Italy. The question evrbit asked itself is:

How can we make rail travel even more attractive and generate added value for rail passengers?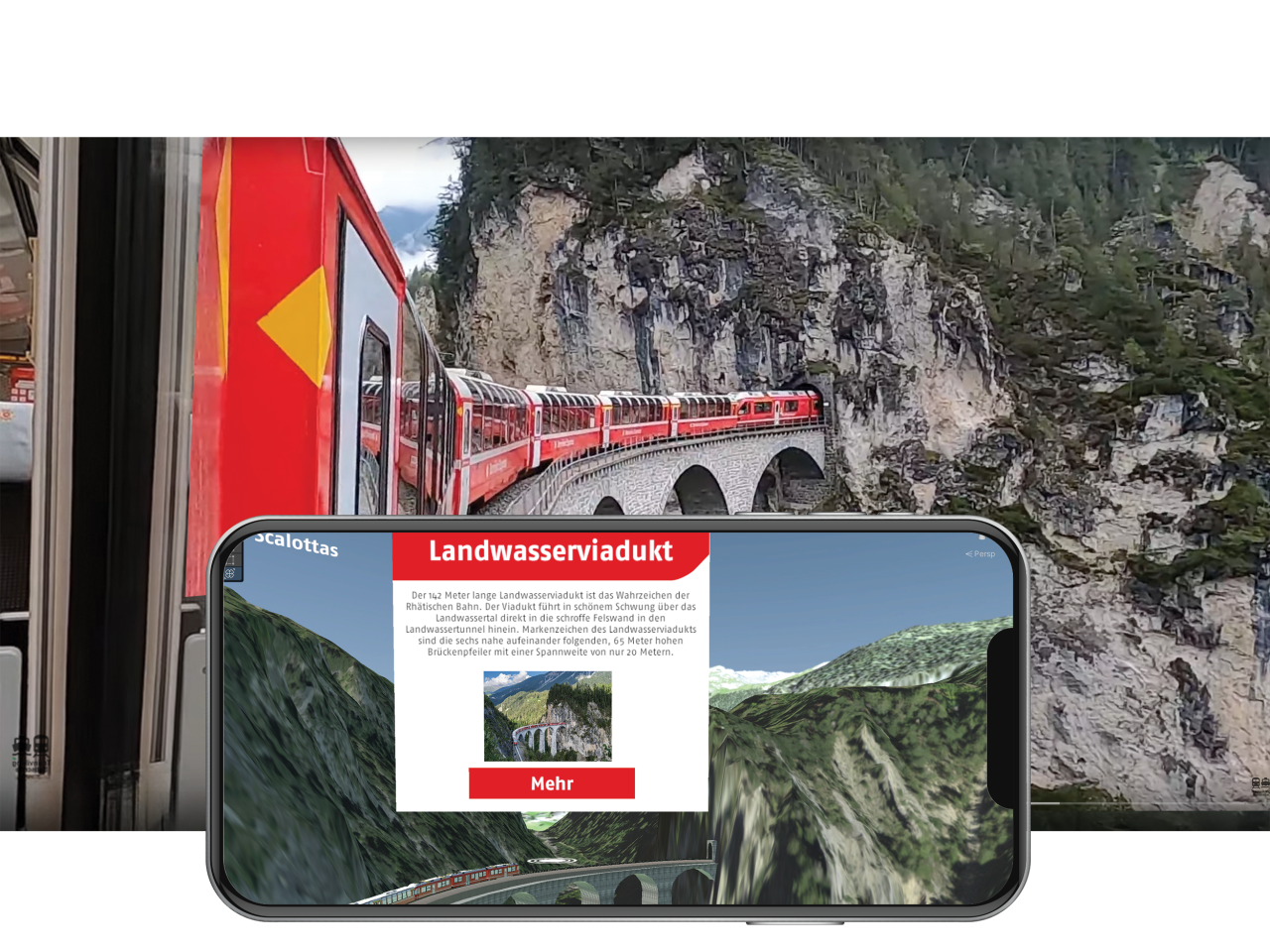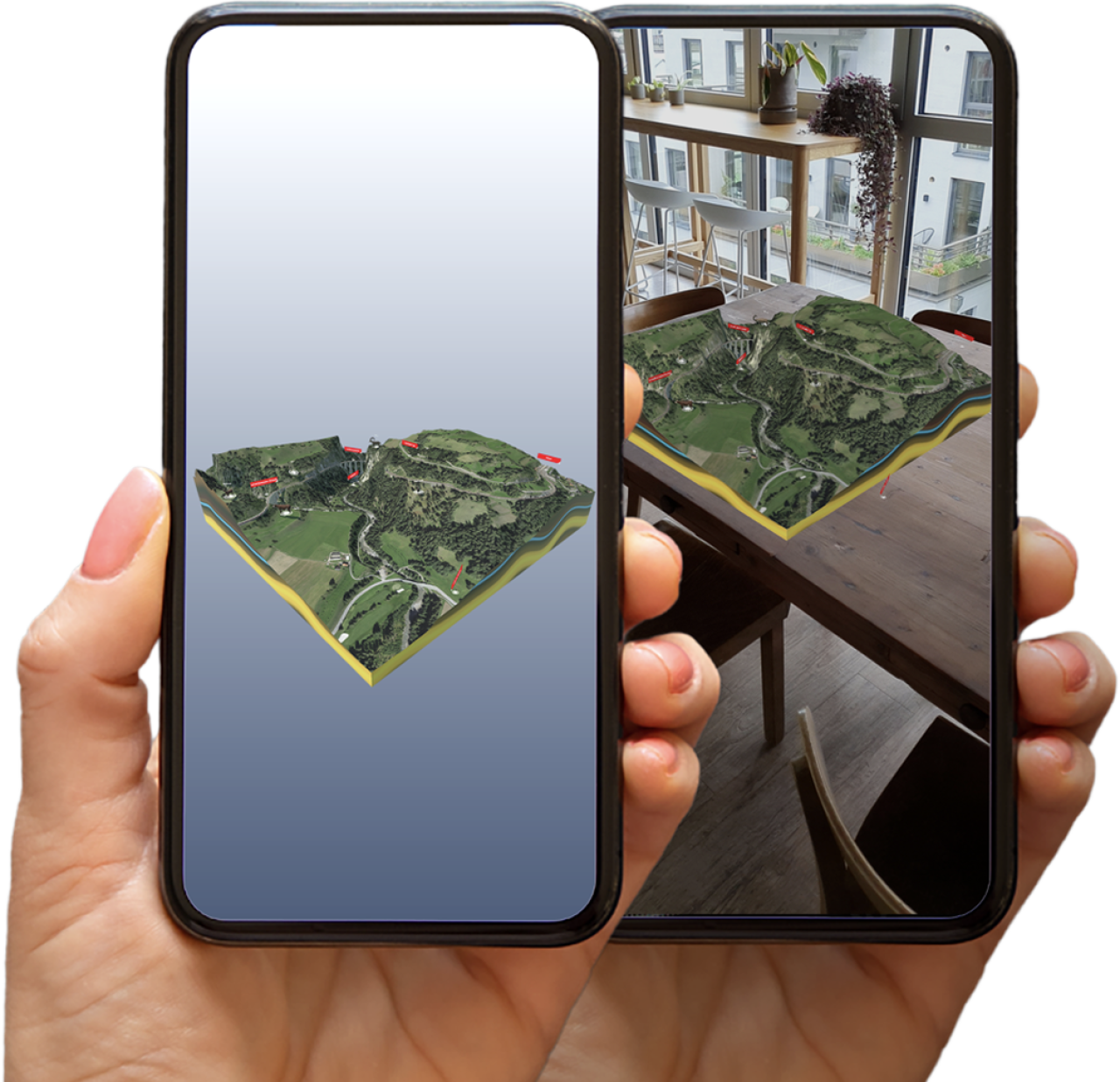 Edutainment for travelers
evrbit offers edutainment for travelers in the form of innovation, information and entertainment.

Passengers can access information about the journey via their own end devices, whether cell phone, tablet, laptop, or app. Our edutainment offering enables a change of perspective: passengers can view the route in a diorama with the digital twin from the train, but also look inside the train and see the landscape from there. So-called touchpoints contain information about the train, the route, the geology or flora and fauna in text form, in Realtime 3D and augmented reality. Playful add-ons for children ensure that the train ride is interesting and varied for children.
A real added value for the travelers and the train journey remains positively in memory.
Have we aroused your interest? Then we look forward to reading from you. Use the contact form here below to get directly to us!